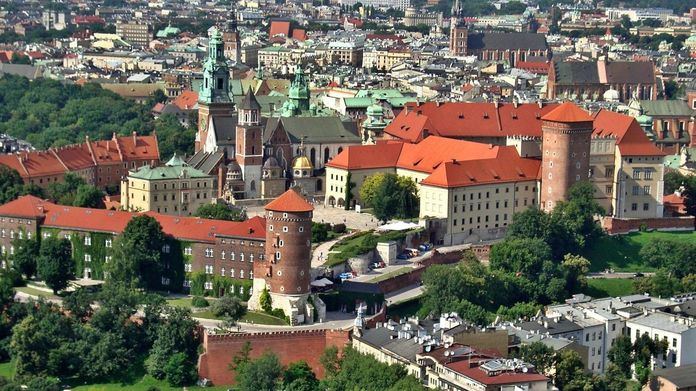 Luggage Storage Locations Kraków
Find your luggage storage
Luggage storage in Kraków With Radical Storage
Exploring one of the most adorable cities in Europe with bags, suitcases, or a backpack on your shoulders can be fairly troublesome. Radical Storage is the solution you've been looking for! With over 3 million suitcases carefully stored, our Kraków luggage storage options are the safest solution.
Exploring new places can be a hassle with dragging your luggage, so we offer our storage spots (called Angels) which are located in convenient districts. We have a flawless history with no cases of lost luggage, and our fixed pricing of €5 per day eliminates any worries about weight or size limits.
Whether you're exploring the legendary Wawel Castle or the charming streets of Kraków, Radical Storage has got you covered. Download our mobile application today and enjoy a stress-free travel experience.
At Radical Storage, we understand that travel plans can change unexpectedly. That's why we offer flexible booking options and 24/7 customer support. If you have any queries about your luggage, drop-off locations, or bookings, our team is always available to help.
Where to store luggage in Kraków?
Now that you've made your way to Krakow, it's time to explore the ancient capital of Poland. A city where the sky is pierced by the spires of majestic castles. Where the air is filled with the bell ringing of churches and the streets are as if created for magnificent royal processions.
But before you start, you don't want to be weighed down by your luggage, do you? With our luggage storage solution, you can easily store your bags and enjoy your time in Krakow with peace of mind.
We have dependable options close to the most significant places:
How to get from Krakow Airport to the city center?
There is a considerable distance from Krakow John Paul II International Airport to the city center - 12 km, so you have three options to get to and from there. The most convenient and easy way is by using a bus, a train or a taxi.
Providing frequent connections to Krakow Main Station, the train station is situated right close to the airport terminal. The trip is about 40 minutes. Then you can then take a tram or bus to the Main Square Old Town from there. A one-way bus or train ticket typically costs between 3 and 4 PLN (Polish zloty). Also, you can take a taxi, which is more comfortable but in contrast to the bus or train – more expensive. The ride is about 50-70 PLN.
Things to see in Krakow
Krakow, without a doubt, is one of the most stunning and surprising metropolises in Europe. It is a significant center for business, education, and tourism, so being here for only one or two days, you may have to put in extra effort to see all that this city has to offer, including medieval religious sites, Gothic relics, and other lovely attractions.
If you don't have much time, here are some essential places to visit:
Krakow Rynek Glowny:
Krakow Market Square, which is known as Europe's largest medieval town square, is the primary attraction with cafés, museums, pubs, music bars, souvenir shops, historical landmarks, and magnificent middle-age architecture. There's a real joy in simply sitting within its confines and watching the world go by.

St. Mary's Basilica:
Another must-see for tourists visiting the city is St. Mary's Basilica in Krakow. It is a stunning Gothic church with two asymmetrical towers, beautiful stained glass windows and an intricately painted ceiling.

Cloth Hall:
The Sukiennice is a hall in the middle of a square where local traders sell handmade items and fabrics similar to what used to be sold there in the past. It splits the square into two even parts, going from north to south.

Town Hall Tower:
Take panoramic photos of Krakow Old Town from the favorite photo spot among tourists and locals, "The Head" of Town Hall Tower.

Planty Park:
Take a romantic stroll through Planty Park to delve into the city's history. Remember to enjoy a refreshing ice cream while admiring the park's surroundings.

Royal Wawel Castle:
You'll arrive at the magnificent Wawel Castle after strolling through Planty Park. Wawel Castle, which is situated in the Old Town's southern part, was built in the 11th century.

Shindler's Factory:
Even if you're not a Steven Spielberg fan, We are sure you have watched Schindler's List at least once. Schindler's List movie was inspired by the book about Oskar Schindler's factory at 4 Lipowa Street, Krakow. The founder of this factory managed to save more than 1000 Jews. Nowadays, in the same building, there is a very famous museum!

Krakow Zoo:
Located in the picturesque Wolski Forest, Krakow Zoo is a great family-friendly activity. With over 1,400 animals and 267 species, it's a must-visit attraction!
What users think about us
Translated automatically
Show original
Hide original
Hundreds of people enthusiastically use our luggage storage service every day
Hundreds of people enthusiastically use our luggage storage service every day
3 Mln+ Suitcases carefully stored
Keeping your luggage safe is our main mission
7000+ Bag guardians worldwide
Our storage points called "Angels" are all over the world
24/7 Instant support
We are always available to answer your questions
0,00% of missing luggage
The numbers speak for themselves, with us you can feel safe!
Store your bags in a few clicks
The worldwide luggage storage network. Our Angels are bars and bistros who have been checked and approved by the Radical Storage team
Step 1
Locate
Find a luggage storage location near you
Step 2
Book
Proceed with online booking
Step 3
Store
Store your suitcases
Step 4
Enjoy
Enjoy your hands-free journey