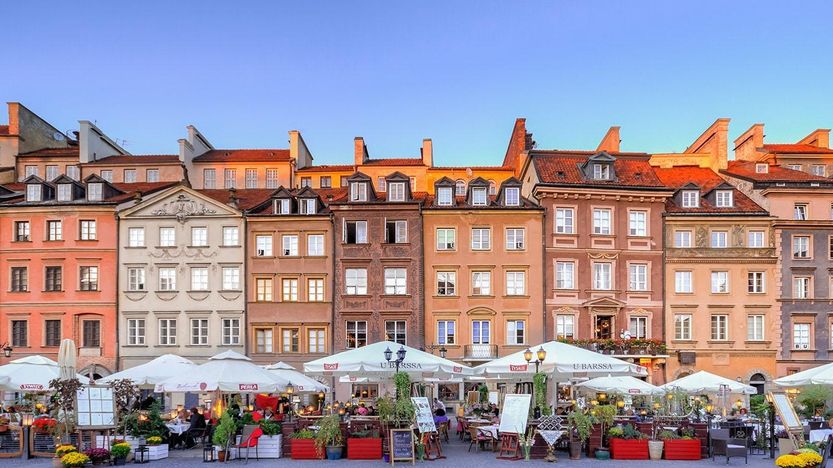 Luggage Storage Warsaw
Find your luggage storage
Luggage storage in Warsaw With Radical Storage
During a trip, you've often had to find reliable left-luggage facilities. That's because hotels and Airbnbs often don't allow you to enter your room before noon and flights arrive too early in the morning!
In Warsaw, however, you have so much to do and see that worrying about your luggage must be your last thought! Radical has several storage spots in the city, especially near the main transit hubs (Central Station or Old Town). You can reserve a safe place for your suitcase directly online, by entering the website or through the application.
When you decide to get rid of your luggage for a while, you would like to find a safe, fast and convenient service. All Radical spots are inside verified public companies that have a very reliable team. We designed this service to allow all travelers to feel better! How pleasant is it to be aware that while you do what you like, your luggage is in safe hands? This and much more is Radical Storage!
Book a luggage storage in Warsaw thanks to our incredible service at Radical Storage
You have planned this trip for a long time, and finally you're going off the airplane after landing in the wonderful city of Warsaw, so you can't wait to visit all the incredible sights that you have already put on your to do list. However, walking around the busy city while handling all your suitcases and bags around the streets can be quite impractical, so you need a place where to store your luggage temporarily, so that you can have the fun that you deserve.
Radical Storage can help you with looking up for the right luggage storage option in Warsaw, thanks to our strategically located luggage storage all across the city, especially nearby the main attractions of the city or the main stations, so that you don't have to worry about your luggage. Visit our website or our user-friendly app, available on both iOS and Android, and in a moment your luggage storage will be set and booked.
On the website, the process behind the booking is really easy and simple: you can go on our interactive maps and search up, thanks to GPS, your current location or the one that you want to reach out, and select among the list of options the one that you prefer to book. After filling out the needed information, you'll be already done.
Why booking a luggage storage with Radical Storage in Warsaw
Now that you have booked a luggage storage in Warsaw with our service, there will be many different benefits and perks that you will use, so that you will always be welcomed to our service.
Security Coverage: More than 3000 euros of security guarantee that will allow you to wander around the city, while your bags will be safe with us.
Fast Service: There won't be time wasted around with our luggage service since you will be able to finish your check-in in less than 5 minutes.
On the go: Booking with us is an easy and quick process to do, so that you can even do it on the go.
Prime locations: You will get to visit all of the best options for luggage storage in the city, thanks to our prime locations.
Flexible Hours: There will be no rigid pick-up times, but you can choose the hours in which you want to check in or out your luggage.
Affordable fixed rate: A fixed rate will be applied to all of our luggage storage, so you won't have to pay added fees for your reservation.
How does it work a Radical Storage reservation for our luggage storage
Now that you have booked a reservation at our service, the tasks are even easier and simple to follow:
Select your luggage storage, so that you can assure that you will get the one that is most suited to your needs.

Confirm your data, such as the number of suitcases and bags that you want to store and the number of hours that you have booked.

Double-check everything and familiarize yourself with the address of the luggage storage, the area and its opening hours.

Arrive early, at least 5 to 10 minutes before your appointment, so that you can have a smooth experience with our Angel.

Verify your data by presenting your e-mail confirmation, so that the Angel can process your QR code and start the check-in process.

Organize your check-in and check-out, informing our local partners of the preferred check-out hours.

Communicate any special request so that we could try help you with your needs and let you have the perfect experience that you deserve.
Luggage Storage in Warsaw: where and how
Our company provides a service for storing luggage in numerous locations across the city center and in close proximity to major attractions. Our network of Angels, local businesses with whom we have established partnerships, enables us to offer flexible luggage storage options. Our website or Radical app can help you easily locate the most suitable storage options for your needs. Our pricing policy guarantees a fixed rate of 20 PLN, irrespective of weight or dimensions. Additionally, we assure a safety guarantee of up to .
Find our top Warsaw locations for luggage storage below:
Grand Central Station of Warsaw: where can I store my luggage
Grand Central Station in Warsaw is a magnificent building that dates back to 1975. The station is located in the heart of the city and provides easy access to a multitude of different destinations. Getting to the airport from the central station is also very easy, with several options available such as taking a taxi, using public transportation, or hiring a private transfer. The city's transport system offers a range of convenient options for travelers to reach their destinations swiftly and safely.
One great feature of the station is the luggage storage facility, which allows travelers to securely store their bags while they explore the city. However, they can be quite expensive and also very crowded. So, don't waste your time and take advantage of one of our luggage storage options near the Central Station of Warsaw, so you will be free from your suitcases and will be visiting the city lighter.
Warsaw Airport
Warsaw Airport, officially known as Warsaw Frederic Chopin Airport, is the largest and busiest airport in Poland. Located in the capital city of Warsaw, it serves as a major international gateway for both domestic and international travelers. The airport is named after Frederic Chopin, one of Poland's most famous composers.
With its modern facilities, Warsaw Airport offers a wide range of amenities and services to cater to the needs of its passengers. It has two main terminals - Terminal A (also known as Terminal 1) for non-Schengen flights and Terminal B (also known as Terminal 2) for Schengen flights. The terminals are connected by a convenient walkway, making it easy for passengers to navigate between them. In addition, the airport has a variety of shops, restaurants, and duty-free stores, providing travelers with plenty of options for shopping and dining.
Warsaw Airport is well-connected to various destinations around the world, hosting numerous airlines and offering flights to over 150 destinations. It serves as a hub for LOT Polish Airlines, the flag carrier of Poland. The airport has also seen significant growth in recent years, with passenger numbers steadily increasing.
Transportation to and from Warsaw Airport is easily accessible, with several options available. These include taxis, buses, and a dedicated train line that connects the airport to the city center. This makes it convenient for travelers to reach their final destinations in Warsaw and beyond.
Overall, Warsaw Airport is a modern and efficient hub that provides excellent service to its passengers. With its convenient location and extensive flight network, it continues to play a vital role in connecting people from around the world to the vibrant city of Warsaw and beyond.
Top things to do while in Warsaw:
Warsaw has a lot to offer and we don't just mean the classic tours, but also the alternative paths! You may have read some guides, web pages and forums before going there, however, Radical also wants to give you its advice! In this way, you can spend your hands-free hours having fun!
Here you'll find the Rynek Starego Miasta, one of Warsaw's oldest squares that was the centre of city life until the 18th century.

The St Martin's Church, with its green roof, is another must-see if you're exploring this area.

However, the monument par excellence is the Barbican, a semi-circular defensive building dating back to 1548.

Moreover, the Stare Miasto (Polish: Old Town) is also rich in museums!

Explore the Lazienskowie Park and wander around the beautiful trees and the nature that surrounds you there.
What users think about us
Translated automatically
Show original
Hide original
-
Very satisfied. 3-minute walk from EUROSTAR station, reliable staff.
Très satisfaite. A 3 minutes à pied de la gare EUROSTAR, personnel sérieux.
Thousands of travelers book our luggage storage every day
Thousands of travelers book our luggage storage every day
3 Mln+ Suitcases carefully stored
Keeping your luggage safe is our main mission
7000+ Bag guardians worldwide
Our storage points called "Angels" are all over the world
24/7 Instant support
We are always available to answer your questions
0,00% of missing luggage
The numbers speak for themselves, with us you can feel safe!
Store your bags in a few clicks
The worldwide luggage storage network. Our Angels are bars and bistros who have been checked and approved by the Radical Storage team
Step 1
Locate
Find a luggage storage location near you
Step 2
Book
Proceed with online booking
Step 3
Store
Store your suitcases
Step 4
Enjoy
Enjoy your hands-free journey
Frequently Asked Questions