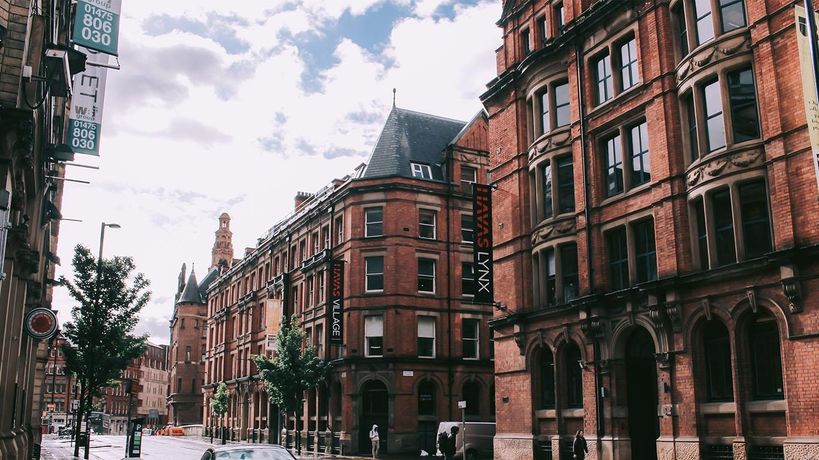 Luggage Storage Manchester
Find your luggage storage
Luggage storage in Manchester With Radical Storage
If you feel like this is happening at the right time in your life, we agree with you! Without a doubt, you have just found the place you were looking for: our luggage storage service in Manchester!
Radical Storage likes accuracy, in fact, it has designed an app that allows you to search for the perfect left luggage in Manchester and the United Kingdom.
Try our luggage storage here in Manchester
With the help of our luggage storage service in Manchester, you can locate trustworthy places to store your possessions without having to worry about anything else. Utilizing cutting-edge technology, Radical Storage offers a distinctive luggage storage solution in Manchester.
A smartphone and an internet connection are all you need to reserve your luggage storage in Manchester, UK. Your vacation will be lot better if you only pay £5 a day per bag. Go on the website, turn on the geolocation feature, and look for a partner nearby. To have all the left luggage services at your fingertips, you can also download our luggage storage app (Radical Storage App).
Local establishments that can store your goods are known as Radical Storage's Angels (also known as our partners). Here a list of the best luggage storage options in the city of Manchester:
Luggage Storage near Piccadilly Station with Radical Storage
Piccadilly Train Station is one of the busiest and most important railway hubs in Manchester, England. It is located in the heart of the city and serves as a crucial transportation link for both locals and tourists. The station offers easy access to various destinations within the city, as well as many other major cities across the country.
Piccadilly Train Station is a historic landmark, known for its grand and imposing structure. The architecture of the station is a blend of Victorian and contemporary design, making it a visually captivating place. It underwent a significant renovation in the early 2000s, which enhanced its facilities and modernized its appearances.
The station is equipped with numerous amenities to cater to the needs of passengers. Inside, there are a variety of shops, cafés, and restaurants, providing convenient options for travelers to grab a quick bite, relax, or shop for essentials. The station also features an excellent transport interchange, with bus and tram stops just outside the main entrance, making it easy to connect to other parts of the city.
As one of the major train stations in the country, Piccadilly serves a wide range of train services. It provides regular connections to many cities including London, Liverpool, Leeds, and Edinburgh, making it an important transportation hub for both local commuters and long-distance travelers.
Overall, Piccadilly Train Station is not only a busy transportation center but also a symbol of Manchester's rich history and architectural charm. With its prime location, excellent facilities, and convenient connectivity, it continues to play a vital role in connecting people and places, making it an essential part of the city's transportation infrastructure.
However, if you need to lighten your load, you might want to consider depositing your bags at one of the nearby luggage storage services. That is why Radical Storage has so many convenient stops for luggage storage options nearby the Piccadilly Station in Manchester. This convenient service allows you to explore Manchester without worrying about your luggage, as you can collect it when you're ready to hit the road again.
Manchester Airport
Manchester Airport, located in Manchester, United Kingdom, is one of the busiest airports in the country, second only to London Heathrow. It serves as a major hub for both domestic and international travel, catering to over 28 million passengers annually.
The airport features three terminals, each offering a range of amenities and facilities to ensure a seamless travel experience. Terminal 1 hosts numerous airlines and offers a variety of shops, restaurants, and duty-free outlets. Terminal 2 is predominantly used by low-cost airlines and has undergone significant expansion and renovation in recent years. Terminal 3 primarily serves long-haul flights, providing passengers with a dedicated lounge and premium services.
Manchester Airport provides excellent connectivity, with flights to over 210 destinations worldwide, connecting passengers to popular tourist destinations, business hubs, and further afield. It offers a wide range of international carriers, including national carriers, budget airlines, and charters, making it accessible for every type of traveler.
Passengers can expect top-notch facilities and services at Manchester Airport. From a vast selection of shopping options to delectable dining choices, the airport caters to all tastes and preferences. The airport also offers ample parking spaces, car hire services, and efficient transportation links, ensuring easy access for travelers.
Furthermore, Manchester Airport takes pride in its commitment to sustainability and endeavors to reduce its environmental impact. It has implemented various initiatives, such as investment in renewable energy and reducing plastic waste, to ensure a greener future for air travel.
In conclusion, Manchester Airport is a bustling hub, providing a smooth departure and arrival experience for millions of passengers every year. Its excellent connectivity, range of amenities, and commitment to sustainability make it a preferred choice for travelers from around the world.
Book a reservation for a luggage storage in Manchester with Radical Storage
You're finally checking out on the list of cities to visit one of the most exciting ones that you could ever imagine: Manchester. However, in order to start your journey in the city with the right foot, you need to find a safe space where you can leave your bags and suitcases in a safe space, so there won't be any issue.
That is why you should need to take advantage of Radical Storage and all the luggage storage that you can find in Manchester, scattered across the city and nearby all the most important landmarks of the area. Only by visiting our website or downloading our app, you can find countless luggage storage in the matter of minutes and you'll be set for your trip.
All the Angels, as we like to call our trust-worthy partners, have been chosen among an array of local businesses, such as restaurants, shops, bars and other ventures, according to safety and convenience standards. The only thing that you need to do is to upload our interactive maps and look out for your current position, thanks to GPS.
Why you should choose Radical Storage for luggage storage in Manchester
Since it might be difficult to make a choice about the place that will store all your belongings, we thought that it might be useful to list all the incredible perks that you will encounter, if you would use one of our Radical luggage storage.
Wide Coverage: We offer an extensive selection of luggage storage facilities that will help you find the perfect location for you, without any sweat.
No-cancellation fee: Our service is aware that some mistakes might happen, so don't you worry, there won't be any fee for canceling your reservation.
Security Coverage: For your peace of mind, we offer you a great security guarantee that will allow you almost 3000 euros, so you won't have to worry about your luggage.
Affordability: Radical comprehends a very convenient flat rate policy, so you won't have to worry about the size or weight of your luggage, but simply enjoy a hassle-free day without your bags.
What should I do after checking out a luggage storage with Radical Storage
After finally booking one of our luggage storage facilities, there might be a few steps that you might be aware of, in order to have a seamless experience.
First of all, add more luggage to your booking if you need to, so everything will be in check.
After that, you will receive your confirmation email with all the details, so get acquainted with the area of your luggage storage, to get a feel of it.
Get accustomed to the other details of your luggage storage, such as the opening hours of the venue and other stuff.
Once you have reached the place, be prepared to show your email and your QR code, so that they can scan it and provide you with a seamless experience.
If you need any other information or you have specific questions, feel free to contact our customer service team or the staff at the luggage storage, so you can be sure of anything.
Things to do in Manchester
Now that you have just found the perfect place to store your luggage in Manchester, you are ready to explore the city.Whether you're seeking culture, sports, or just good fun, there are plenty of things to see in the city.
The National Football Museum - There's not a city in the world that loves football more than Manchester! You can find a beautiful museum entirely dedicated to football at Urbis Building Cathedral Gardens: the National Football Museum.

Visit the museums - Trust us. You can't visit this museum with a heavy backpack on your back since it's enormous! It's laid over four floors and has four galleries (Pitch Gallery, Match Gallery, Play Gallery, Score Gallery), including a children's area.

Stroll around the city center - After having left your bags at our left luggage in the City Centre, you are ready to explore the wonders of this district! The Central business district of Manchester is located within the boundaries of Trinity Way, Great Ancoats Street, and Whitworth Street.

Shopping? - It depends on your budget! If you have spent all your money during this holiday, well, maybe it's worth to use the last few pounds to enter a museum! But if you have saved money and want to purchase something for yourself or your loved ones, then you should reach the Arndale Shopping Centre.

The Cathedral - Manchester Cathedral is the primary church of the Anglican Diocese of Manchester and the seat of the Bishop. Located on Victoria St, it boasts a beautiful nave roof (Gothic style, of course), precious choir stalls, and a collegiate chancel, designed by the English gothic architect John Wastell.
Top locations in Manchester
What users think about us
Translated automatically
Show original
Hide original
-
It's very convenient. Right in the center of the city.
Очень всё удобно. В самом центре города.
-
Super local box with simple to use and close to transport recommends
Super local box with simple to use and close to transport recommande
Thousands of travelers book our luggage storage every day
Thousands of travelers book our luggage storage every day
3 Mln+ Suitcases carefully stored
Keeping your luggage safe is our main mission
7000+ Bag guardians worldwide
Our storage points called "Angels" are all over the world
24/7 Instant support
We are always available to answer your questions
0,00% of missing luggage
The numbers speak for themselves, with us you can feel safe!
Store your bags in a few clicks
The worldwide luggage storage network. Our Angels are bars and bistros who have been checked and approved by the Radical Storage team
Step 1
Locate
Find a luggage storage location near you
Step 2
Book
Proceed with online booking
Step 3
Store
Store your suitcases
Step 4
Enjoy
Enjoy your hands-free journey
Frequently Asked Questions